I recently had the privilege of being interviewed by Christian Books Distributors (CBD) about my book Drawing on History and how my art and design background ties into it.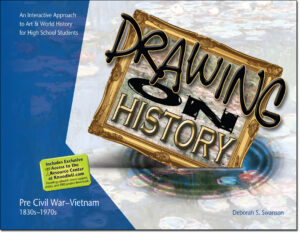 Christianbook.com:
Your graphic design experience and fine arts background absolutely shines in
Drawing on History
; how did your own experiences both as a homeschooler and as an artist contribute to its layout?
Deborah Swanson: My life is about art. I knew I wanted to be an artist from the time I was in 7th grade. I also dreamed of being a teacher. God granted me both. My college education in graphic design and illustration is a huge part of who I am today. My education in art has greatly influenced the way my own kids were homeschooled. Both of my kids had learning disabilities and learned better using tactile means, so introducing art in order to study other subjects was a very natural method for me. My kids responded very well to it and so did all the many kids that wanted to do school with us.
As a graphic designer, I recognize that I am very privileged to work within my passion and want to teach my students that it is possible to do so. I believe good design is important to the way we communicate. I want to communicate to my readers/students that when God gives you a certain gifting, you need to use it in an excellent manner. Everything I design, either for myself or for a client, must be to the best of my abilities – even a high school art curriculum book. 
Christianbook.com: Other art curriculums don't go as in-depth on many of the movements you cover. You were following Beautiful Feet Books to some extent, but how important was it for you to integrate other types of art, such as African-American slave art and Japanese woodcuts? 
. . . see more>>>
For the full interview click: CBD INTERVIEW